Additional Wall Street Journal coverage of Magi added
Update, May 6, 2023:
Tea wall street journal also reports on "Project Magi," which aims to make Google search more "visual, snackable, personal, and human." It moves further away from Google's traditional "10 blue links" strategy. The new search is intended to be especially helpful when there is "no right answer".
In addition to ChatGPT, Google's business model is being threatened by search and content features in apps such as TikTok and Instagram, which offer life advice or restaurant recommendations. According to an internal Google document obtained by the WSJ, the number of active traditional websites has stagnated in recent years.
One of Google's goals is to incorporate more social media content into its search results. The internal document says Google needs to "refine" its definition of trustworthy content. To build trust in content, Google wants to provide attribution and literacy tools, according to the document.
Original post from 17. April 2023:
"Search Wars": Google's "Project Magi" to roll out in May
Samsung is considering Bing as its default browser, putting more pressure on Google as it sprints into the future of search with Project Magi.
Project Magi is Google's project for the near future of the search engine, reports the New York Times after seeing internal documents. More than 160 employees are said to be working full-time on Magi, which aims to integrate new AI features into the existing search engine.
Magi update for Google search coming in May
It is not clear from the NYT report what exactly Google is planning to do with Magi. What is clear is that Magi will be an update to the existing search that will not jeopardize the advertising business with search ads. At the same time, it will make the search engine capable of dialog in the style of a chatbot. After the Magi update, Google Search will be able to answer code questions and have code capabilities, for example.
The Magi update will initially be rolled out to one million users in the US. The first features will be introduced in May, with more to follow in the fall.
Recommendation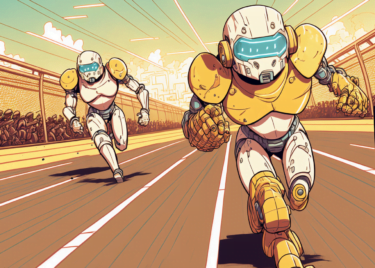 A Google spokeswoman does not explicitly comment on the Magi leak, but confirms that new AI features are coming soon to Search.
Google's search future
Google is also said to be working on an entirely new search engine that will learn what users want, pre-select information, and be able to carry on dialogues about search topics across multiple instances.
According to the NYT, the new engine will feel like talking to a helpful person. There is no release date yet.
Other AI software in development includes "GIFI," an image AI that generates images in Google Image Search, and "Tivoli Tutor," a chatbot that teaches languages.
"Searchalong" is a chatbot in the Chrome browser that can answer questions about search and webpage context, such as activity around an Airbnb location. There is no word on when, if, or in what form these products will be available.
Samsung threatens to default to Bing
Samsung is considering making Bing the default browser on Samsung smartphones instead of Google Search. According to the NYT, this was a moment of panic for Google. The company is said to believe that Microsoft's chatbot search was the deciding factor in this consideration, but this has not been confirmed.
Samsung might be using the latest moves in the search market to negotiate a better deal with Google as its default search engine. Google and Samsung are still in talks, and the partnership could continue.
Samsung is the largest and most important manufacturer of Android smartphones, shipping well over 200 million smartphones each year with the Samsung browser.