ChatGPT's plugins introduced in late March are now being rolled out to all OpenAI ChatGPT Plus accounts.
More than 70 third-party plugins will be available to all ChatGPT Plus users by the end of this week. More access is $20 per month.
Once your account is approved, you can enable the plugins in the ChatGPT settings under "Beta Features". There are two sliders, one for plugins and one for web browsing, which can be enabled independently. Then you can select plugins with the Model Selector and enable individual plugins in the Plugin Store.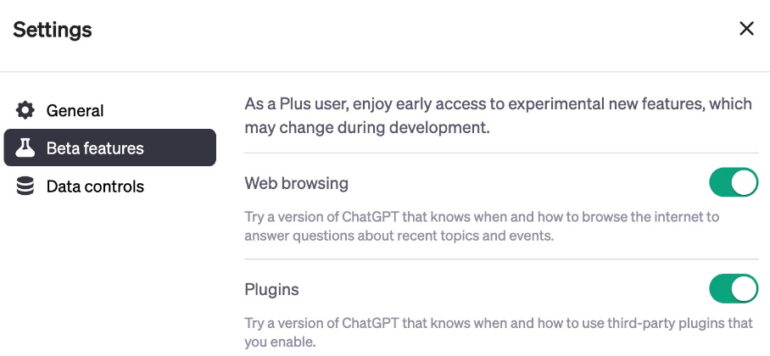 ChatGPT uses plugins automatically
According to OpenAI, ChatGPT's access to plugins works automatically after activation. ChatGPT "knows" when and how to search the Internet for current topics and events or access activated plugins, OpenAI writes.
Among the more than 70 plugins are numerous shopping and search platforms, eg for clothing, real estate, travel, food, and car rentals, as well as practical applications, such as loading the content of a PDF into the chat to discuss it with ChatGPT , generating prompts, or searching for good one-word domains.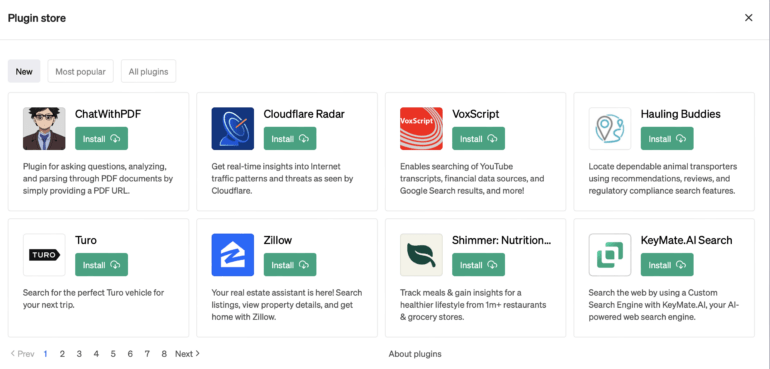 The system currently has one limitation: a maximum of three plugins can be active per chat session. So to get the best result, you have to think about what task you want to solve with ChatGPT and then choose the three best ones from the more than 70 plugins.
Developers interested in plugins can sign up for a waiting list here. Development documentation is available here.
The chatbot platform race is on
After Google announced the international rollout of Bard and the first Bard plugin partners a few days ago and Microsoft made it clear that it also has platform ambitions for Bing Chat, OpenAI follows with its own platform strategy for ChatGPT.
With the plugins, ChatGPT becomes an interface with access to language models with tools. These give the chatbot many new capabilities, such as extracting and explaining content directly from web pages, writing better code, or analyzing and visualizing data.
Recommendation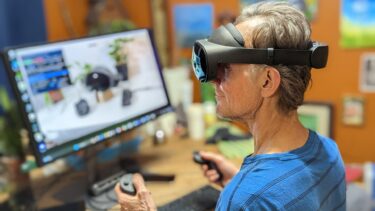 Large language models with tools were also the subject of a study by OpenAI on the impact of language models on the job market, as their enhanced capabilities could have a much greater impact than language models without access to tools.
Are chatbots the next great evolution of the Internet?
Chatbots could fundamentally change the Internet if they meet high demand. More and more tasks and content would migrate to the bots' content ecosystem. People would have little reason to visit websites. Chatbot providers will get the attention, and therefore the money.
It is a disruption at least comparable to the shift from the desktop to the smartphone ecosystem, but probably more profound. The consequences for publishers, social media platforms, or even online stores – in fact, for the "free web" in its current incarnation – are anyone's guess.
Microsoft and OpenAI have said they want content creators to share in the success of chatbots. But exactly what such a share might look like remains unresolved, as do many questions about the copyright of content that chatbots use without explicit permission – already in the training of the underlying models.